support wellbeing during perimenopause
| | | |
| --- | --- | --- |
| Typical Values | Per Tablet | % NRV |
| Vitamin D3 | 10mcg | 200% |
| Vitamin C | 80mg | 100% |
| Vitamin B6 | 2.8mg | 200% |
| Vitamin B12 | 500ug | 20,000% |
| Magnesium | 40mg | 11% |
| Iron | 14mg | 100% |
| Zinc | 20mg | 200% |
| Reishi Mushroom | 400mg | - |
| Soya Isoflavones | 20mg | - |
| Red Clover | 500mg | - |
| Wild Yam Root | 500mg | - |
| PABA | 30mg | - |
| Sage Leaf | 80mg | - |
Serving Size: 1 Tablet
Ingredients List: Bulking Agents (Microcrystalline Cellulose, Dicalcium Phosphate), Vitamin C (L-Ascorbic Acid), Reishi Mushroom Fruiting Body 5:1 Extract (10% Polysaccharides), Magnesium Oxide, Soya Bean Pulp (40% Isoflavones), Red Clover 10:1 Extract (Trifolium pratense), Lesser Yam Root 10:1 Extract (Dioscorea opposita), Ferrous Bisglycinate, PABA, Zinc Oxide, Anti-Caking Agents (Magnesium Stearate, Silicon Dioxide), Glazing Agent (HydroxyPropylMethylCellulose), Sage Leaf 10:1 Extract (Salvia officinalis L), Vitamin B12 (Cyanocobalamin), Vitamin D3 (Cholecalciferol), Vitamin B6 (Pyridoxine Hydrochloride), Glazing Agent (Glycerin), Coating Agent (Carnauba Wax).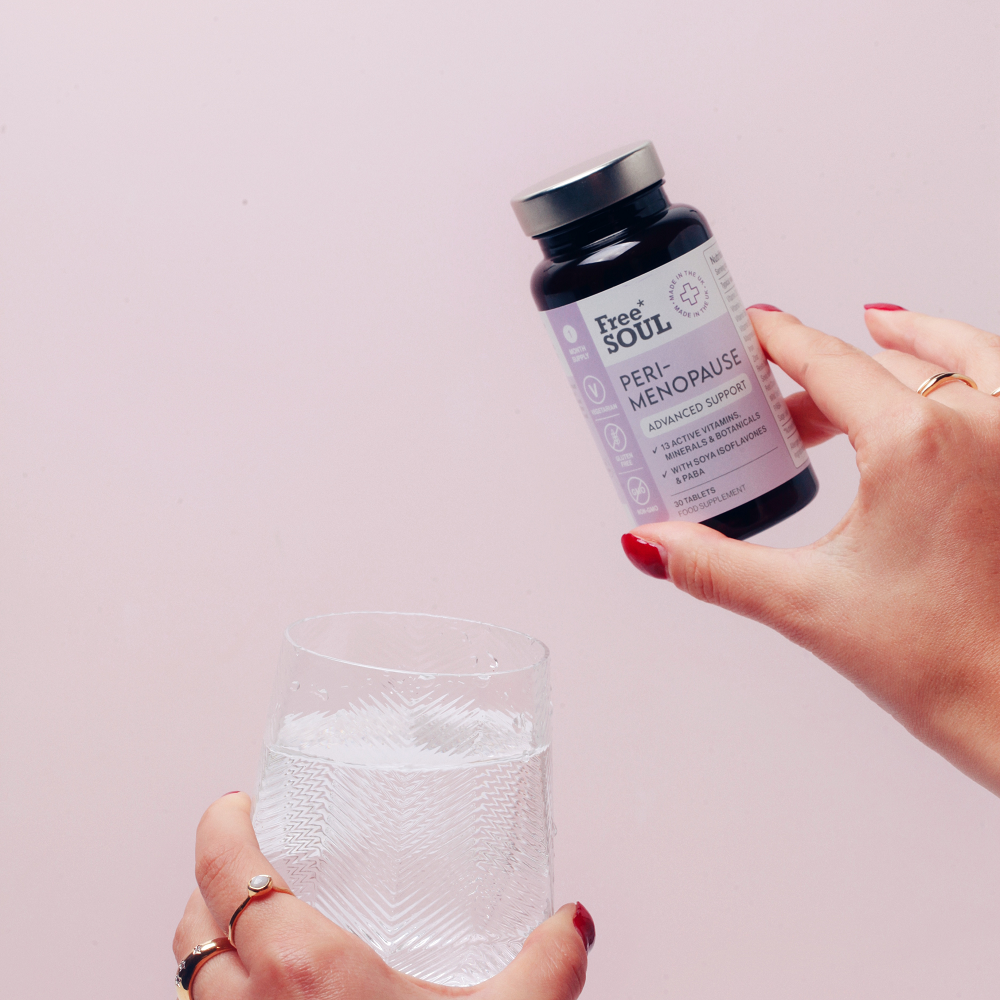 What is Perimenopause?
Perimenopause describes the process of a woman's body transitioning into menopause. Often when people refer to "going through menopause" - they are actually describing the perimenopausal transition period.
Menopause follows the perimenopausal transitionary period, and once a woman is at the menopause stage, her menstrual cycle stops. Symptoms of perimenopause can start months, or even years, before your period stops.

Perimenopause is commonly associated* with:

Hot flushes
Difficulty sleeping
Night sweats
Body aches & pains
Changing body shape
Mood changes




*Source: NHS on Menopause & Perimenopause
How does the Perimenopause Supplement work?
Using an effective combination of vitamins, minerals, and superfoods, it provides support through a variety of angles:
Vitamin Blend: Vitamin B6, B12, C, & D3: contributes to the normal functioning of the nervous system, the regulation of hormonal activity, & psychological function

Minerals: Magnesium, Iron, & Zinc: contributes to normal cognitive function, a reduction in fatigue, & protects cells from oxidative stress

Superfoods: Reishi Mushroom, Yam Root, Red Clover: this powerful combination has been used in ayurvedic medicine for hundreds of years for their powerful properties. Shown to have benefits in reducing hot flashes and other symptoms associated with perimenopause+.

Soya Isoflavones & PABA: Phytoestrogens for their incredible natural properties.

Source: + Journal for Women's Health: (Ham D et al, 2015), 21(10), 1026-1031. doi: 10.1089 jwh 2012 3640)