THE KEY INGREDIENTS ADDED TO ALL BLENDS…
| | | |
| --- | --- | --- |
| | Chocolate | Vanilla |
| MACRONUTRIENTS | | |
| Energy, kcal | 230kcal | 231kcal |
| Fat | 4.9g | 4.3g |
| of which saturates | 0.9g | 0.6g |
| Carbohydrates | 25.5g | 28.7g |
| of which sugars | 10.7g | 10.8g |
| Fiber | 4.8g | 3.6g |
| Protein | 18.2g | 17.3g |
| Salt | 0.9g | 0.9g |
| | | |
| VITAMINS | Serving (34g) / RDA % | Serving (34g) / RDA % |
| Vitamin A | 291.3ug / 36.4% | 291.3ug / 36.4% |
| Vitamin D | 4.9ug / 97.8% | 4.9ug / 97.8% |
| Vitamin E | 5.1mg / 42.5% | 5.1mg / 42.5% |
| Vitamin K | 32.5ug / 43.4% | 32.5ug / 43.4% |
| Vitamin C | 29.2mg / 36.5% | 29.2mg / 36.5% |
| Thiamin | 0.4mg / 37.1% | 0.4mg / 37.1% |
| Riboflavin | 1.0mg / 74% | 1.0mg / 74% |
| Niacin | 5.7mg / 35.7% | 5.7mg / 35.7% |
| Vitamin B6 | 0.5mg / 36.4% | 0.5mg / 36.4% |
| Folic Acid(Folate) | 61.4ug / 30.7% | 61.4ug / 30.7% |
| Vitamin B12 | 1.9ug / 74.7% | 1.9ug / 74.7% |
| Biotin | 19.8ug / 39.6% | 19.8ug / 39.6% |
| Pantothenic Acid | 2.3mg / 39.1% | 2.3mg / 39.1% |
| | | |
| MINERALS | | |
| Potassium | 618.6mg / 30.9% | 506.2mg / 25.3% |
| Calcium | 483.3mg / 60.4% | 477mg / 59.7% |
| Phosphorus | 379.3mg / 54.2% | 350.7mg / 50.1% |
| Magnesium | 162.3mg / 43.3% | 142.8mg / 38.1% |
| Iron | 6.4mg / 46.1% | 5.1mg / 36.6% |
| Zinc | 3.9mg / 39.1% | 3.9mg / 39.1% |
| Copper | 0.4mg / 40.8% | 0.4mg / 40.8% |
| Manganese | 0.8mg / 40.9% | 0.8mg / 40.9% |
| Selenium | 18.3ug / 33.2% | 18.3ug / 33.2% |
| Iodine | 56.3ug / 37.5% | 56.3ug / 37.5% |
| Sodium | 241mg / n/a | 250.8mg / n/a |
Ingredients Information
VANILLA FLAVOUR
Soya Protein Isolate, Maltodextrin, Gluten Free Oat Flour, Pea Protein Isolate, Vitamins and Minerals (Potassium Dihydrogen Phosphate, Calcium Carbonate, Magnesium Oxide, Potassium Chloride, Magnesium Sulphate, Ferric Pyrophosphate, Zinc Sulphate Monohydrate, Vitamin A, Vitamin D2, Vitamin E, Vitamin K, Vitamin C, Thiamine, Vitamin B2, Niacin, Vitamin B6, Folic Acid, Vitamin B12, Biotin, Pantothenic Acid, Copper Sulphate Anhydrous, Sodium Selenite, Manganese Sulphate), Flaxseed, Stabiliser (Xanthan Gum), Natural Flavouring, Sea Salt, Guarana Extract, L-Carnitine, Maca Powder, Siberian Ginseng, Anti-caking Agent (Silicone Dioxide), Sweetener (Sucralose)
CHOCOLATE FLAVOUR
Soya Protein Isolate, Gluten Free Oat Flour, Fat Reduced Cocoa Powder (11%), Maltodextrin, Pea Protein Isolate, Vitamins and Minerals (Potassium Dihydrogen Phosphate, Calcium Carbonate, Magnesium Oxide, Potassium Chloride, Magnesium Sulphate, Ferric Pyrophosphate, Zinc Sulphate Monohydrate, Vitamin A, Vitamin D2, Vitamin E, Vitamin K, Vitamin C, Thiamine, Vitamin B2, Niacin, Vitamin B6, Folic Acid, Vitamin B12, Biotin, Pantothenic Acid, Copper Sulphate Anhydrous, Sodium Selenite, Manganese Sulphate), Flaxseed, Natural Flavouring, Stabiliser (Xanthan Gum), Sea Salt, Guarana Extract, L-Carnitine, Maca Powder, Siberian Ginseng, Anti-caking Agent (Silicone Dioxide), Sweetener (Sucralose)
Peruvian Maca
Traditionally used to help regulate female hormonal balance and improve mood. Maca is a concentrated source of vitamins, minerals and fibre. Studies have shown that this adaptogen improves energy and focus.
Siberian Ginseng & Guarana
These contribute to physical and mental well-being, acting as a natural, mild stimulant to support energy levels.
Natural Flavours
We use zero artificial flavours or colours, and no added sugar. Only the purest ingredients, nothing less.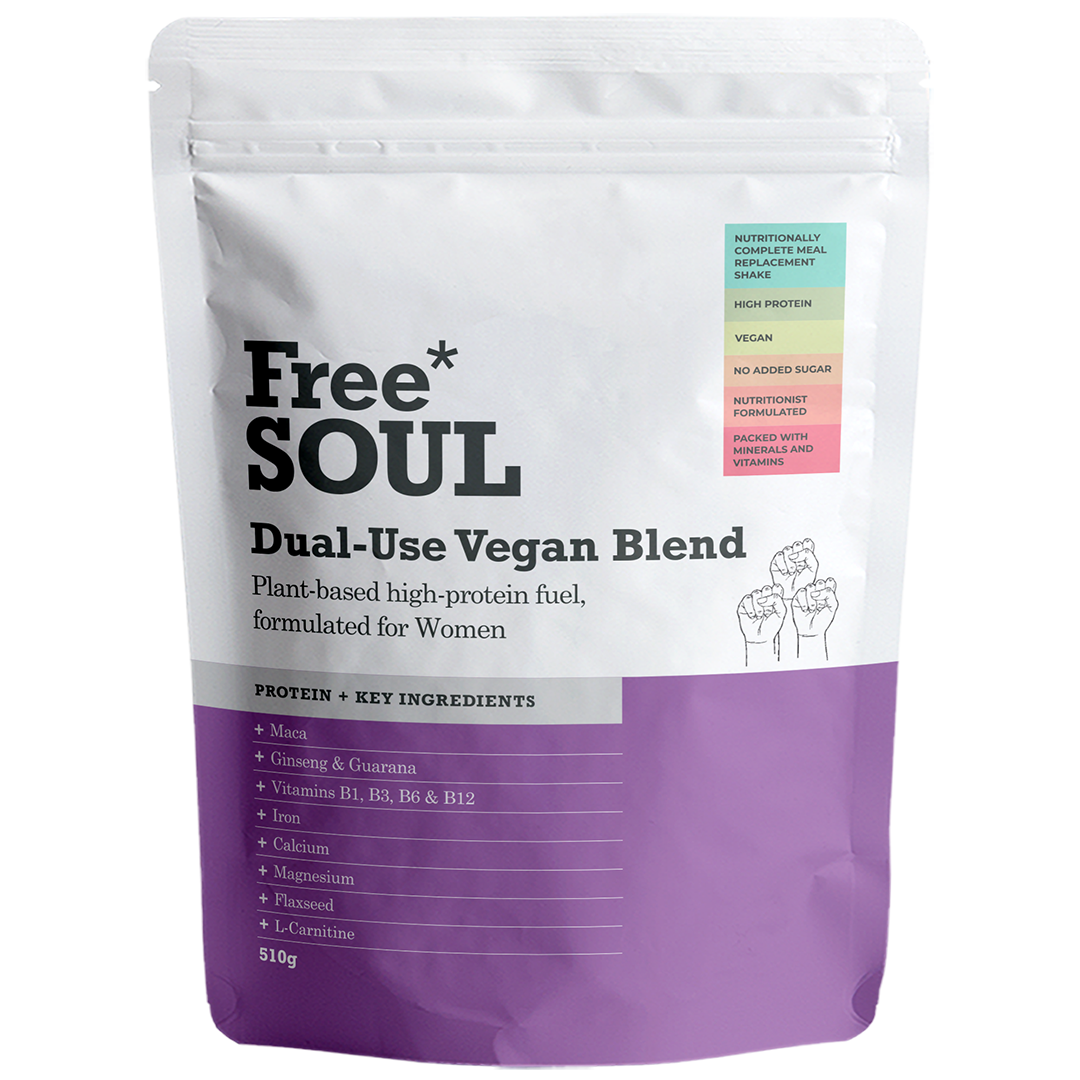 Magnesium
Important for bone health and magnesium also helps to reduce tiredness and improve mood and psychological function.
Iron
Important for the formation of red blood cells and haemoglobin and transporting oxygen around the body. Women are at greater risk of being deficient because menstruation depletes the body of iron. Low iron levels can cause lack of energy, fatigue, affect concentration and the quality of hair, skin and nails.
Calcium
Important for bone health.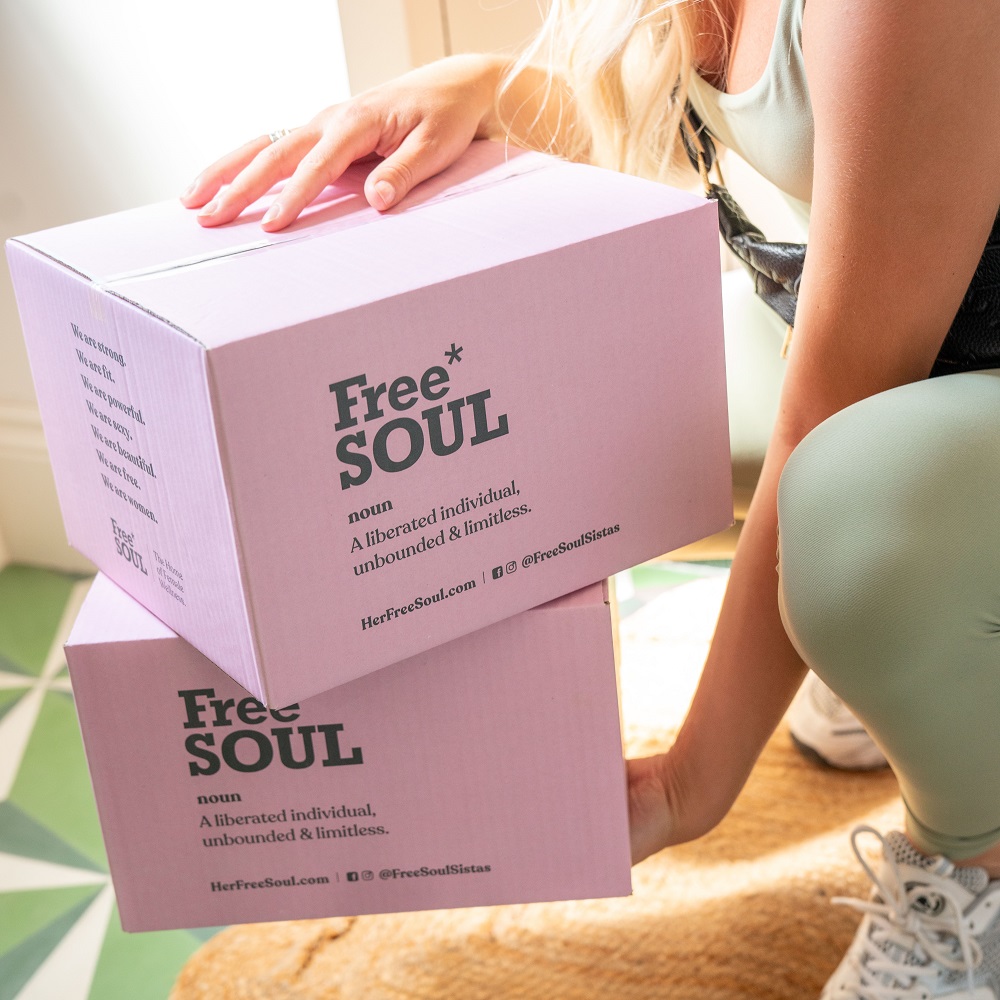 Healthy, and for the Long-Term
Sustainable Weight Loss
If weight loss is your goal, we have you covered with the Dual Use shakes. These Meal Replacement Shakes have been formulated by nutritionists to harness the power of adaptogens to aid weight loss. Additional ingredients have been included in the blend to support fat metabolism, so your results are sustained throughout the long term.
Achieve Your Goals
At Free Soul we're here to help you live the lifestyle that suits your individual needs and goals. So, whilst we regularly promote healthy habits that improve your mental and physical wellbeing on the inside, we're also here to provide support for those wanting to make a more external change. A shake of Free Soul Dual-Use provides you with the perfect balance of macronutrients and micronutrients to help you achieve your weight loss goals. Simply use Dual Use to replace 1-2 meals per day for best results. Always use alongside a healthy diet.